Good morning all !
To celebrate Christmas before the time and the end of a year marked by the 100th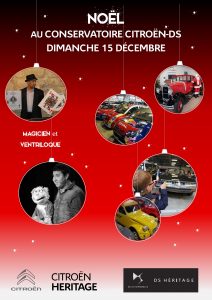 anniversary of Citroën, the Conservatoire teams are offering a joyful and family show on Sunday, December 15th, at the heart of its collections.
For 45 minutes, "Boucha le magicien" and the ventriloquist "Do not touch my cat" will amaze you and make you laugh. Come spend a festive moment with them, and fall back to childhood!
Before or after the show, young and old alike can wander through the Conservatoire's alleys to discover models that are sometimes unique in the world. Prototypes, futurists, racing cars, expedition models, utilities, movie cars … more than 300 vehicles are waiting for you to discover their history. You may even meet Santa Claus; he is looking for a new sled …
Three sessions are scheduled for the show, Sunday, December 15 at: 10:45 / 14h / 15:30
Rates (for the show of 45 mn and the free visit of the Conservatoire):
Child from 3 to 6 years old and a member of L'Aventure Peugeot Citroën DS: 5 €
Child from 7-18 years old: 7 €
Adult: 12 €
Admission is free for children up to 2 years old.
Be quick, places are limited. It is therefore strongly recommended to book your tickets online: Click HERE
Best regards,
Emmanuelle Flaccus
The Peugeot Citroën Adventure DS
Communication-Marketing-Events-Press Relations
EMAIL
Since October 6th, the Citroën-DS Conservatory, located in Aulnay-sous-Bois, welcomes you on Sundays from 10am to 6pm (closing of the ticket office at 5pm) and from Monday to Friday from 9:30 am to 5:30 pm (closing of the ticket office at 4:30 pm) . Guided tours are also offered throughout the year. The next ones are scheduled on Saturday, November 23rd and Wednesday, December 4th. Info and reservations: +33 1 56 50 80 20 / Contact Fedoua Zeggar : Email