Hello ACI Delegates, Honorary Members and Ambassador,
freshly received – an info we ask you to spread towards your clubs: the Conservatoire is from 6-Oct-2019 onwards also open on Sundays!
Please see details below. (Translated using Google translate)
Take care, enjoy your weekend!
///Stephan Joest, ACI.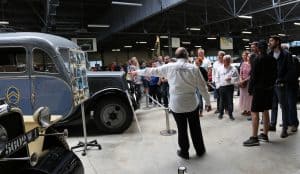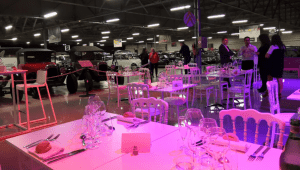 To the attention of our partners COM PSA
Hello, thank you for relaying this information to the employees of the Group and the Citroën / DS Automobiles network
In PJ some photos; I have others at your disposal.
THE CONSERVATORY OPENS ITS DOORS ON SUNDAY!
In order to satisfy more and more visitors, the Conservatory Citroën DS, located in Aulnay-sous-Bois, changes its opening days and hours from October 6th. The Conservatoire teams are now welcoming you on Sundays from 10 am to 6 pm (closing of the ticket office at 5 pm) and from Monday to Friday from 9.30 am to 5.30 pm (closing of the ticket office at 4.30 pm).
This is an opportunity to discover models sometimes unique in the world. Prototypes, futurists, racing cars, expedition models, utilities, movie cars … more than 300 vehicles are waiting to make you discover their history! PSA Group staff benefits from a reduced rate.
You can book your tickets online: https://www.laventurepeugeotcitroends.fr/visiter-conservatoire/
Guided tours are also offered throughout the year. The next ones are scheduled on Wednesday 16th and Saturday 26th October (at 14h).
Info and reservations: +33 1 56 50 80 20 / Email: fedoua.zeggar@mpsa.com
Discover the Conservatoire otherwise with the Seasonal Dinner
If you want to live an even more incredible and unusual experience, Citroën Heritage invites you to discover the Seasonal Dinner. Collector vehicles, concept cars or presidential cars, no one can remain of marble by walking in the alleys of the Conservatory. Nostalgic or dreamy, you will continue your evening by settling at the table of the ephemeral restaurant installed in the heart of the history of the Citroën brand.
As a member of the PSA Groupe staff, take advantage of an exceptional offer with promo code PSA2019 which allows a reduction of 15% (the evening with visit, entertainment and meals at € 51 per person instead of € 60). Information and booking: www.diner-chevronnée.fr
Best regards,
Emmanuelle Flaccus