DURING THE COVID-19 CRISIS, CITROËN IS OPENING ITS "THE CITROËNIST EDITORIALIZER" NEWSROOM TO ALL, TO BETTER INFORM AND BE BETTER INFORMED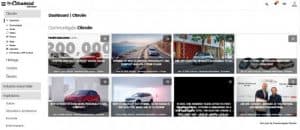 In this exceptional period of social distancing, Citroën is extending access to its editorial platform "The Citroënist editorializer", developed with ETX Studio, to all: www.thecitroenist.com
Usually exclusively accessible to 200 media outlets around the world, it covers all news as well as that of Citroën and the automotive industry. It also aggregates ETX and AFP content.
For all the media in search of unique, relevant subjects in a global context dominated by cancellations of professional, cultural and sporting events, it is an information and monitoring tool, as well as facilitating access to publications from all over the world.
For the general public, it provides access to 30,000 referential sources worldwide.
At a time when citizens of many countries around the world are living a moment of self-isolation, information and content consumption are at the heart of our daily lives. A popular brand in the true sense of the word, Citroën, part of people's everyday existence through good times and bad since 1919, is aware of the need for both the general public and journalists to have access to —  and provide — relevant and quality news coverage in these exceptional circumstances.
Citroën has therefore decided to open its editorial platform "The Citroënist editorializer" to all. Usually available to just 200 journalists around the world, this platform, launched in a world first in late 2018, covers a wide range of daily news (health, environment, science, culture, sport…), as well as news of Citroën and the automotive sector.
The Brand wishes to support journalists who are mobilized in the face of the coronavirus crisis and who are also in search of reliable and original information, at a time when the trade shows, world premieres, cultural and sporting events that they usually cover get cancelled one after another.
By opening up "The Citroënist editorializer" more widely to the media, the aim of Citroën is simple and modest: to allow them to work without constraints and to inform the public effectively.
For 30 days, "The Citroënist editorializer" is accessible to everyone. To take advantage of it for free, simply create an account by clicking on this link.
Digital newsroom "The Citroënist editorializer" was designed by Citroën in partnership with the newstech ETX Studio (formerly Relaxnews).
Find out more about "The Citroënist editorializer": https://youtu.be/U5KLOPLJ5jM