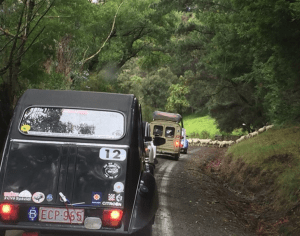 The Taranaki and Wellington Clubs invite all 2CV enthusiasts to join us on the 70th year of the 2CV celibration RAID.
To be held over 4 days, (5 nights)  commencing in Whanganui on Friday the 5th October we will travel over back roads of Taranaki King Country, Rangatikei Manawatu and Whanganui regions.
A little about the raid –  we will traverse typical 2CV raid roads – back country,  unsealed often windy, narrow and some spectacular central North Island scenery (yes there is quite a lot off the beaten track) with several interesting sections, natural tunnels and narrow one lane bridges –  just what 2CVs were built for. Accommodation will be a mixture of hotel, rural homestead / cabins.
Please complete the registration below to receive your full route details.
There is no cost for registering for the RAID. Participants costs will mainly be accommodation, fuel and food.
Places will be limited and preference given to 2CVs and derivatives.