Map Unavailable
Date/Time
Date(s) - 24/04/2019 - 30/09/2019
00:00
Categories
A history of the dealers, the clubs, the racers, raiders and adventurers.
"Citroën in New Zealand', by Michael Williams is a 96 page book about the people, the dealers, the service centres, the clubs and the individuals who have helped to form and shape the world of Citroën in this country over the last 100 years. Most of the book covers the dealers and the service centres from south to north, and Otago,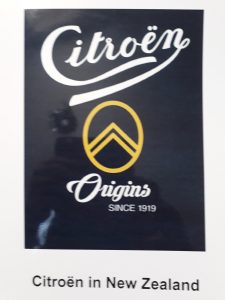 Canterbury, Marlborough, Wellington, Wairarapa, Whanganui, Manawatu, Taranaki, Hawkes Bay, Waikato and Auckland are covered in this section.
There is a short chapter on Citroën car assembly in New Zealand, and a longer one on the Club scene throughout the country, including the formation of the National Club. The final chapter is about Racers, Raiders and Adventurers, with information and photos of racing Citroëns, and the various 2CV raids over the years.
Citroën dealerships began in many parts of the country from 1922, but generally did not survive the depression years. New dealerships began in the 1930s with the release of the Traction Avant models, and  the 1950s 1960s and 1970s were the best years in terms of sales. New dealerships and service centres began, often established in the provincial areas of the North Island by dedicated and determined individuals who ran successful businesses. Dealerships and distributors have changed regularly over the last 20 years, but after 100 years, Citroëns are still being sold in New Zealand, a feat equalled by very few other manufacturers.
Cost per copy is $NZ28 including postage and packing to Non Rural delivery addresses.
Cost per copy for Rural delivery is $NZ30, including postage and packing.
Overseas orders. Please email us with your order request, including your full name and postal address.
Please choose the number of books "Spaces" you wish to purchase for delivery in New Zealand. If you have a Rural delivery address, please choose the "Delivery to Rural addresses" ticket.
Please choose your payment method at the bottom of the order form below
Either PayPal (PayPal or Credit Card).  No PayPal account required.
Or pay by Internet Banking, Telephone Banking or by Cheque. You will receive payment details in the confirming email. If you do not receive this email confirmation please email us
Bookings
Bookings are closed for this event.