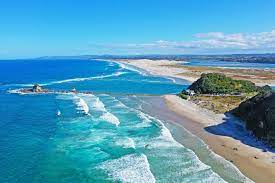 We're keen to see a record turn-out of 2CVs. There will also be an endeavour to bring out as many SMs as possible to "shepherd the 2 CVs"…oops, that might be thought less than PC by 2CV owners! Meet at the carpark at the Old Albany Pub, 276 Dairy Flat Highway Albany, Auckland 0632, at 9.30am.
We'll proceed up the newly opened "Holiday Highway" in impressive convoy, turning off at Kaiwaka to head to Mangawhai.
We'll first visit the famous new Bennett's Chocolate Factory around 10.30am. The options there are to relax in their fabulous café, or take in an introduction to their innovative electronic processes from Laurie Newhook's brother Denis, an electrical engineer and electrician who designed and supervised the build, and maintains it ongoing.
Other attractions are the amazing Mangawhai Museum, with its exhibit concerning the discovery of the schooner "Daring" in dunes at Kaipara Heads, and the Mangawhai Tavern where we could take lunch.
The suggestion is we return south via the quieter and more scenic alternative roads, later in the day.
Committee member Scotty Pearson is monitoring intentions of participation. Please register with him on scottyco@gmail.com or by text on 021 889 602
This could be a neat precursor to the National Rally around Warkworth early next year. Who knows, you could gain an advantage navigating the rally excursion …or maybe not!