British & European Car Day, Sunday 10th February, Trentham Memorial Park
Trentham Memorial Park Upper Hutt. Barton Road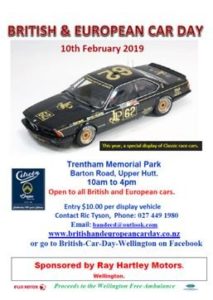 Formerly only featuring British cars, this large and popular event on the Wellington classic car calendar is now open to continental European marques too. With this year being the 100th anniversary of the founding of Citroen, the club has been able to negotiate a prime site. We will also have a gazebo with photos on display. So we want to have a great display of Citroens of all ages and models to show off the marque in our centenary year.
Aim to arrive between 9.00-9.30am and look for the Citroen banner. Entrance is off Barton Rd, Upper Hutt (see attached flyer for more details). Note, entry fee is $10 per vehicle, with proceeds to Wellington Free Ambulance.
RSVP to Mark Stockdale, markstockdale@xtra.co.nz or ph. 021 434097.