By St. Joest on 22-Jun-2020
In 1999, the United Nations have established the International Youth Day on August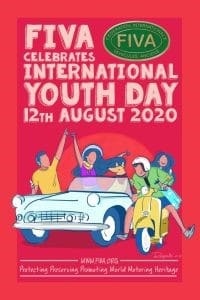 12th each year.
This year, also the FIVA, the global association of all historic vehicles (Fédération Internationale des Véhicules Anciens), launches a creative competition to celebrate this day.
The theme is "Historic Vehicles and Industrial Heritage" – and young people (and those which still feel young at heart 😉 ) are invited to submit their interpretation of the theme.
It would be good when you could spread the words via your clubs to their members so that a large number of Citroën related submissions will be visible in this contest – we all can make a difference!
And we all have the great Citroën vehicle heritage! Innovative designs and great shapes certainly can be shown off in creations, be it in photographs, paintings or drawings.
More details about the contest here:
https://fiva.org/en/calling-young-at-heart-historic-vehicle-enthusiasts/
the entry form for submitting:
https://fiva.org/en/youth-day-form/
Thank you for your support!
Continue reading: " FIVA Competition For The Youth: "Historic Vehicles and Industrial Heritage" " at our website: Amicale Citroën Internationale (ACI).
Recent Articles:
A different Citroën perspective – the blog of Henri-Jacques Citroën
COVID-19 impact: ICCCR 2020 postponed to 2022
100 Years Citroën: Thank You! Merry XMas & Happy New Year!
New Book: "What A Ride – Growing Up with Citroën in North America"
100 Years of Citroën – the speech of Henri-Jacques Citroën at La Ferté-Vidame opening ceremony